Good day, and welcome to our website!
We are very proud of the pictures above. Not only because they reflect all of the trades that Gonzalez Contracting Corporation performs, but because they also demonstrate the actual difference that we can make using our imagination and skills as professional craftsmen. This property was purchased at a lower-than-market price as the buyer realized that the basic construction was sound, and he could realize equity by bringing the building up to acceptable standards. I promise you that this is the same property!
Nearly 20 years ago, I arrived in the United States with my family with the hope of one day having a successful business. I began working for others while I obtained United States Citizenship and, after several years, had saved enough to purchase a home and begin in business. I always had thought that if I consistently provided dependable and quality work and was known for prompt attention to detail and exceeding the customer's expectations, I would be a success.
Thanks to my loyal customers (the majority of our work still comes from repeat business) and continuing with our initial business ethics, I consider Gonzalez Contracting Corporation to be a success. I began with Gonzalez Landscaping Company with one truck and only one employee, and we only performed landscape maintenance. Today, the company is incorporated; we have six company vehicles and our employees include those that are not only skilled with landscape design, but in roofing, painting, and all types of masonry, including tile setting.
I sincerely appreciate your visiting our website, and should be shopping for a contractor in any of our disciplines, I invite you to contact us.
On behalf of everyone at Gonzalez Contracting Corporation, we look forward to meeting you!
Kind Regards,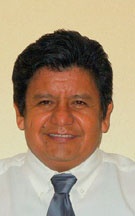 Florentino G. Gonzalez
President